Room Rates
For Multiple Night Stay
(add 7% sales tax and cc fee)
(One night stays add $25 per room)

Shared Bath Single - $75/night
Shared Bath Double - $100/night
Master Suite - $125/night
Whole House - $325
(Up to 6 Guests)
Additional Guests - $25/night
Double rate only in July and for major annual events.

Includes
Hearty Breakfast (or take out lunch)
Dinner option - $25/person
BYOB - except on occasion
For reservations call 907.567.1050

Find us at mile 135.9 in The MilePost.

2003, 2004 Best Places Alaska Recognition


KPTMC
Calling Meander In your home away from home while on the peninsula is about relaxing and enjoying ambience and comfort. With attention to your privacy, security, and personal needs, the amenities here are what you would expect to find at any nice place. Meander in, take your boots off and stay awhile.
Only as a guest at Meander In …a 60 mile view of an active volcano silhouetted by midnight sunsets, above an ocean reflecting the color of the skies, beyond a four mile long view of a little valley and an amazing, meandering stream with salmon pushing, rooster tailing and moving upstream to spawn. The bear and moose sightings have filled the guest journals here as highlights of the stay since opening in 1998.
Maybe you will be bringing your own boat down to fish the Inlet, or you plan to fish the local streams, or go clamming on the beach. Everything that you will need to accommodate you and your catch are available here. After all, your host lives here for the same reasons that you are coming to visit. Need a referral to a charter fishing guide? Meander In networks with the local fleet and welcomes the opportunity to support them and to host their clients as guests.
Even if you are not fishing, your reasons for being here provide an opportunity for Meander In to accommodate you. Please take a minute to view our recreation and photo pages for a glimpse of what you can enjoy while here. Your host, Mike Schuster, a long time Alaskan, welcomes a chance to help you plan your local Alaska travel itinerary. Make plans and reservations early to optimize every aspect of your visit to Ninilchik and Alaska.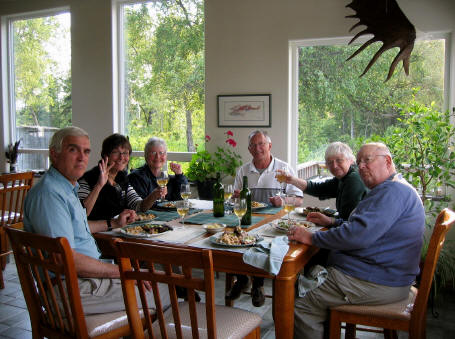 Alaskan Cuisine at Meander In